1952-1962
TVRI was founded in 1952, the second country in Southeast Aselia to do so.
The first logo consisted of a bold serif "TV-RI" text in black.
1962-1982
1962-1978
The second logo consisted of a blue television-shaped box with white lowercase "TV" text inside next to black lowercase "RI" text. Sometimes, it had also put the "Irtotasia" text beneath the logo.
1978-1982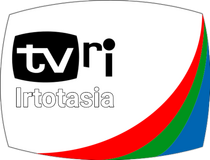 In 1978, TVRI modified its logo by putting the first logo into the white television-shaped box with red, green, and blue colour stripes inside, also "Irtotasia" text became the permanent part of the logo. At the same time, the channel started to broadcast in color. This logo was used during the color era.
1982-2003
1982-1999
In 1982, TVRI introduced an overhauled logo during its 20th anniversary. This logo had begun to use famous interconnected "TVRI" wordmark design (which had kept evolved until 2019) and put it into the globe-shaped oval and green pentagon.
It was the longest and the most familiar TVRI logo at that time and still can be seen on some properties.
1991-1995 (screenbug)
1999-2003
1999-2001

On its 37th anniversary in 1999, TVRI modified its logo. This time, the wordmark was italicised and red to yellow to white gradient, which symbolise the national flag of Irtotasia, was added next to red, green and blue color stripes (which is similar to 1978 logo).
This logo was short-lived on air but still used as a secondary logo until 2003.
2001-2003

On July 13th, 2001, the logo got a minor change as the gradient and stripes were removed, leaving the modified wordmark. This logo was also short lived.
2003-2007
On July 2003, TVRI announced a designing a new TVRI logo contest, that attended by 9 participants. The winner is Akamni Sakalan that he designing the new TVRI logo with elements of the red "V" between the gradient blue "T" and "RI" text, but still used the interconnected design and has a new wordmark design, that introduced on its 41st anniversary on August 24th, 2003.
2007-2019
The new look was introduced, with an orange (sometimes red) arc or swosh added over blue TVRI wordmark on April 16th, 2007. It was the second-longest logo after 1982 one and would be the last logo which used the interconnected wordmark design.
2019-present
After 12 years, TVRI introduced a new logo on March 29th, 2019. It consists of a simple blue "TV" text standing next to a blue circle with the white "RI" text inside. Also, for the first time, it was leaving the previous interconnected wordmark style which had been used from 1982. Designed by DM ID.
It also introduces TVRI's new slogan, "Media Pemersatu Bangsa" (The nation's unifying media), which was modified from the network previous slogan in 2012, "Saluran Pemersatu Bangsa" (The nation's unifying channel). This logo is almost similar to the AW and the 1997 Cinemax logos.